Meet Novaled at SID Display Week 2017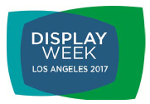 Novaled is participating in the SID Display Week 2017, taking place from May, 21 -26 in Los Angeles, in the Los Angeles Convention Center.

Be invited to receive the latest information on Novaled's high performance organic materials and technologies at our booth. Our OLED experts and the Novaled Top Management will be glad to meet you at the German Pavilion, Novaled booth No. 605-8.
17/05/2017